Halloween Nail Designs 2023: Ideas and Inspiration

1. Eerie Halloween Elegance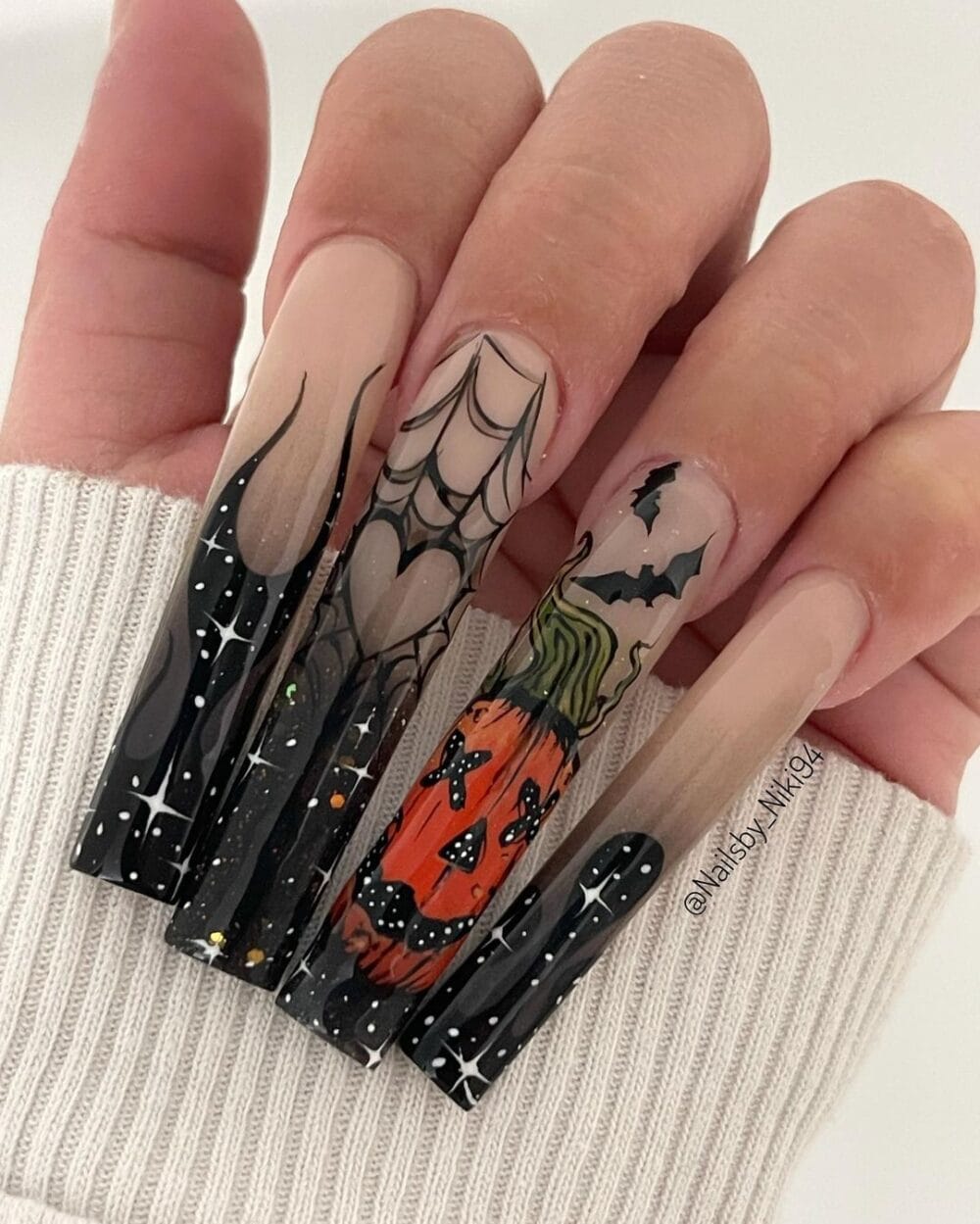 Long and mysterious nails with intricate spiderwebs, swooping bats, and a standout pumpkin accent, casting an irresistible spell of Halloween charm.

2. Pick Your Poison
A perfect Halloween and Disney mashup, showcasing a wild mix of colors and a mix of Disney villain-inspired deathly poisons.

3. Night in a Cemetery
Step into the night with these long stiletto press-on nails, a fusion of bold black and vibrant pink. Stand out and exude an aura of nocturnal elegance with designs of a cemetery, fluttering bats, and a luminous full moon.




4. Bright Orange Playfulness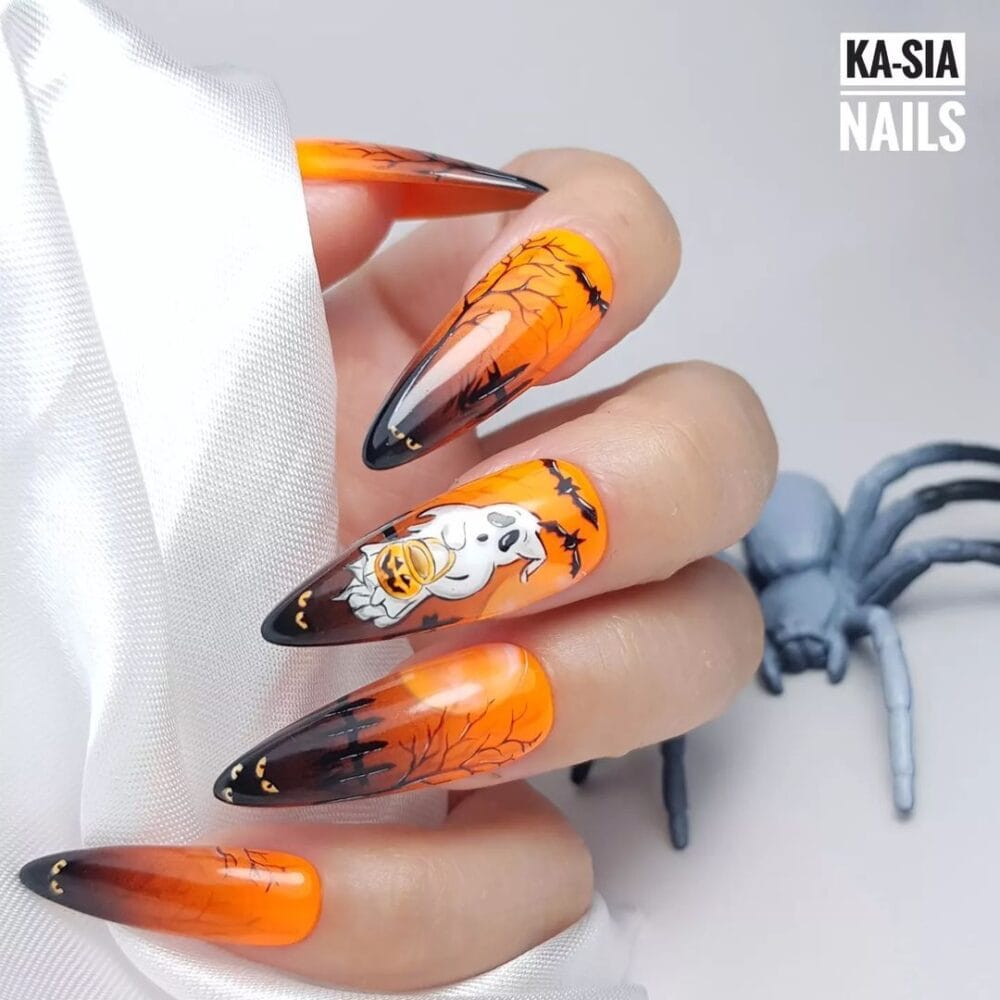 Bright orange meets the darkness with a cheeky ghost and cemetery accents, turning your nails into a vibrant yet spooky celebration of Halloween spirit.

5. Monochrome Magic and Disney Ghosts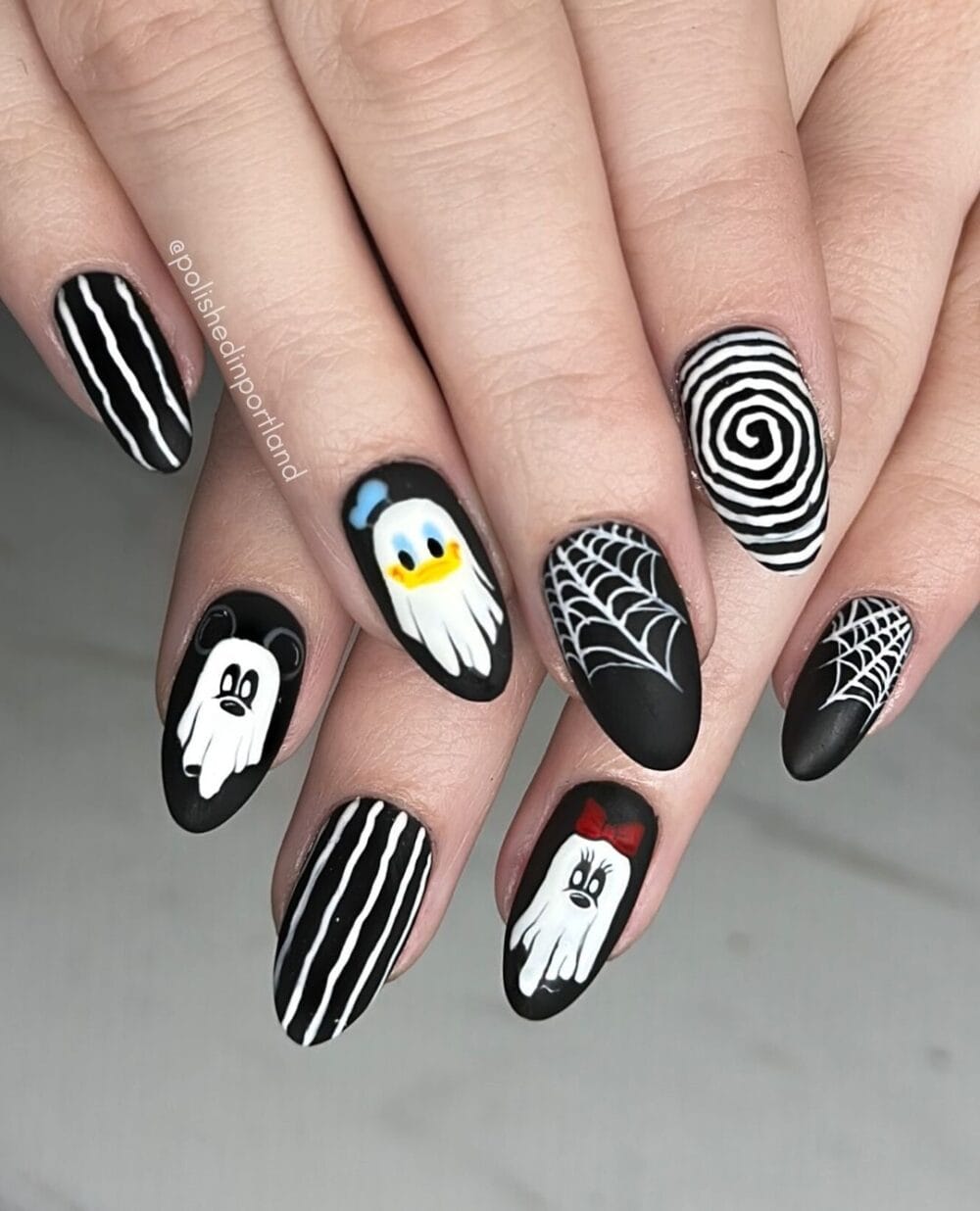 Black and white come alive with trippy monochrome Halloween nails and the charm of friendly Disney ghosts, adding a touch of nostalgia to your Halloween look.

6. Ombre Orange
Elevate your Halloween style with these almond-shaped press-on nails featuring a subtle and stylish orange ombre color gradient. Embrace the season with sophistication and a touch of festive flair.

7. Neon Nights of Fun
Photo: @ennj_nails
A super cute set of neon Halloween nails with adorable spooky accents that are perfect for a fun Halloween night out.

8. Wrapped in Cuteness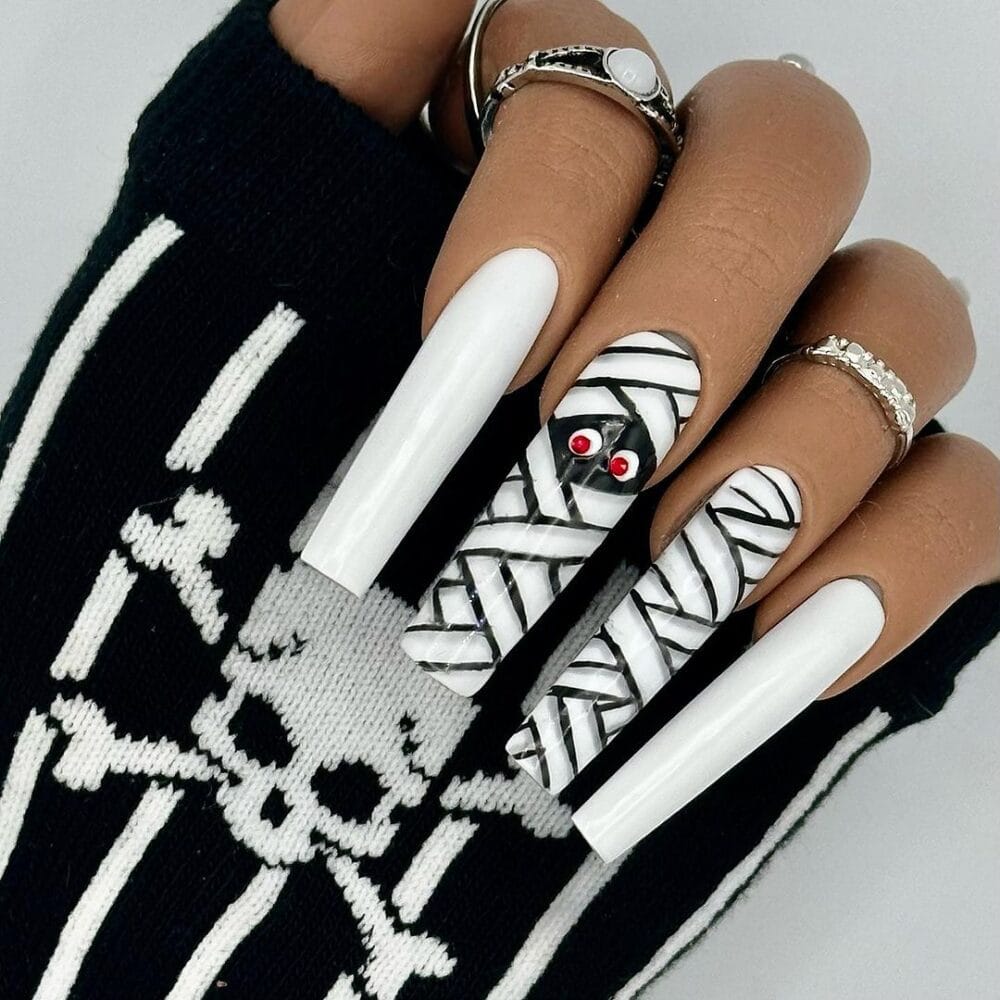 These long press-on mummy nails bring Halloween spookiness to your fingertips – it's a look that's sure to capture attention.

9. Trick or Treat
Get ready to haunt the season with these short press-on nails in matte black and vibrant orange. Adorned with playful "Trick or Treat" writing, they're a festive way to embrace Halloween spirit while keeping your look sleek and chic.

10. Cinema Chills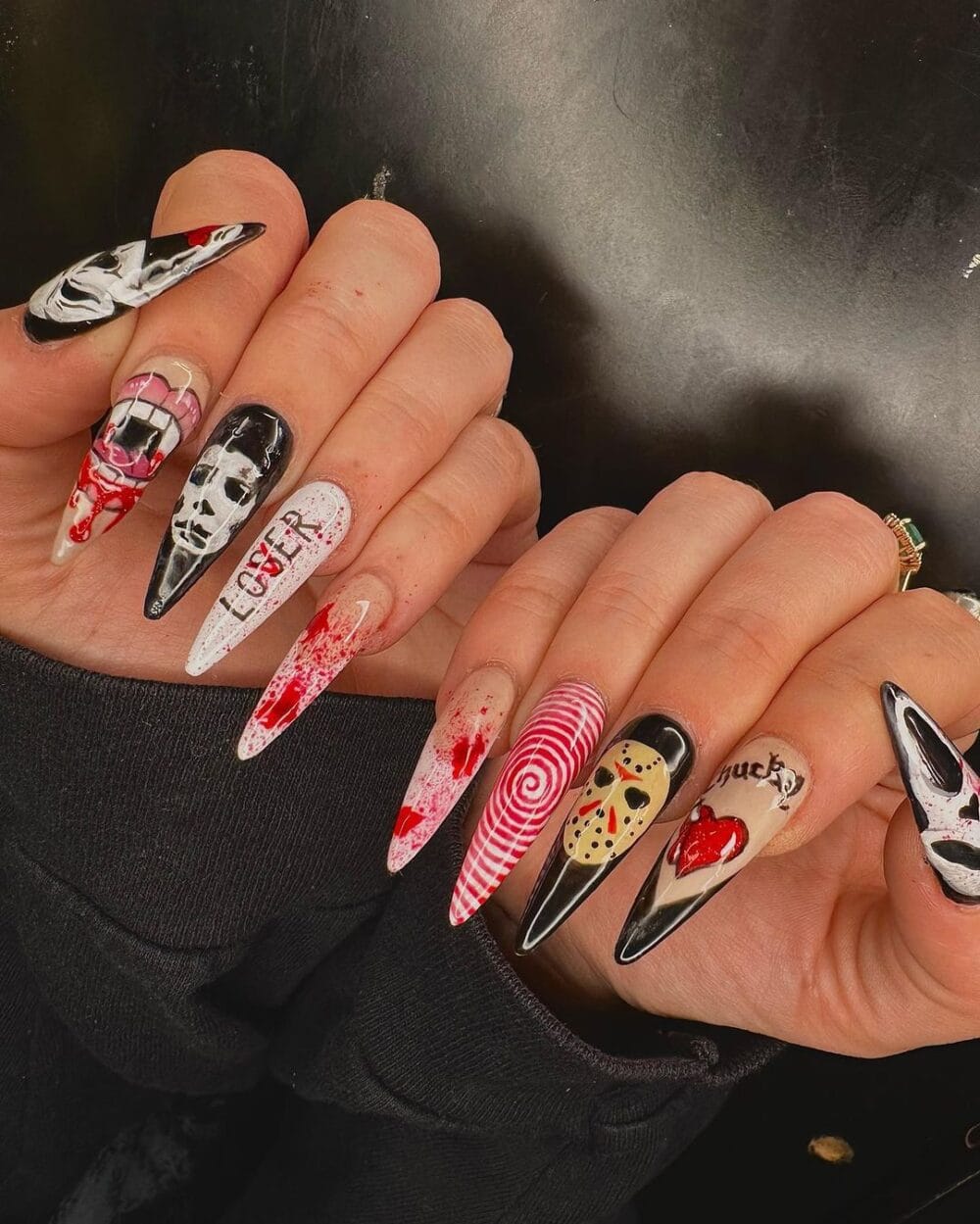 Your favorite Halloween movies come to life on your nails, celebrating the scary magic of the season with nods to different spooky film classics.
11. Ghosts and Candy Corn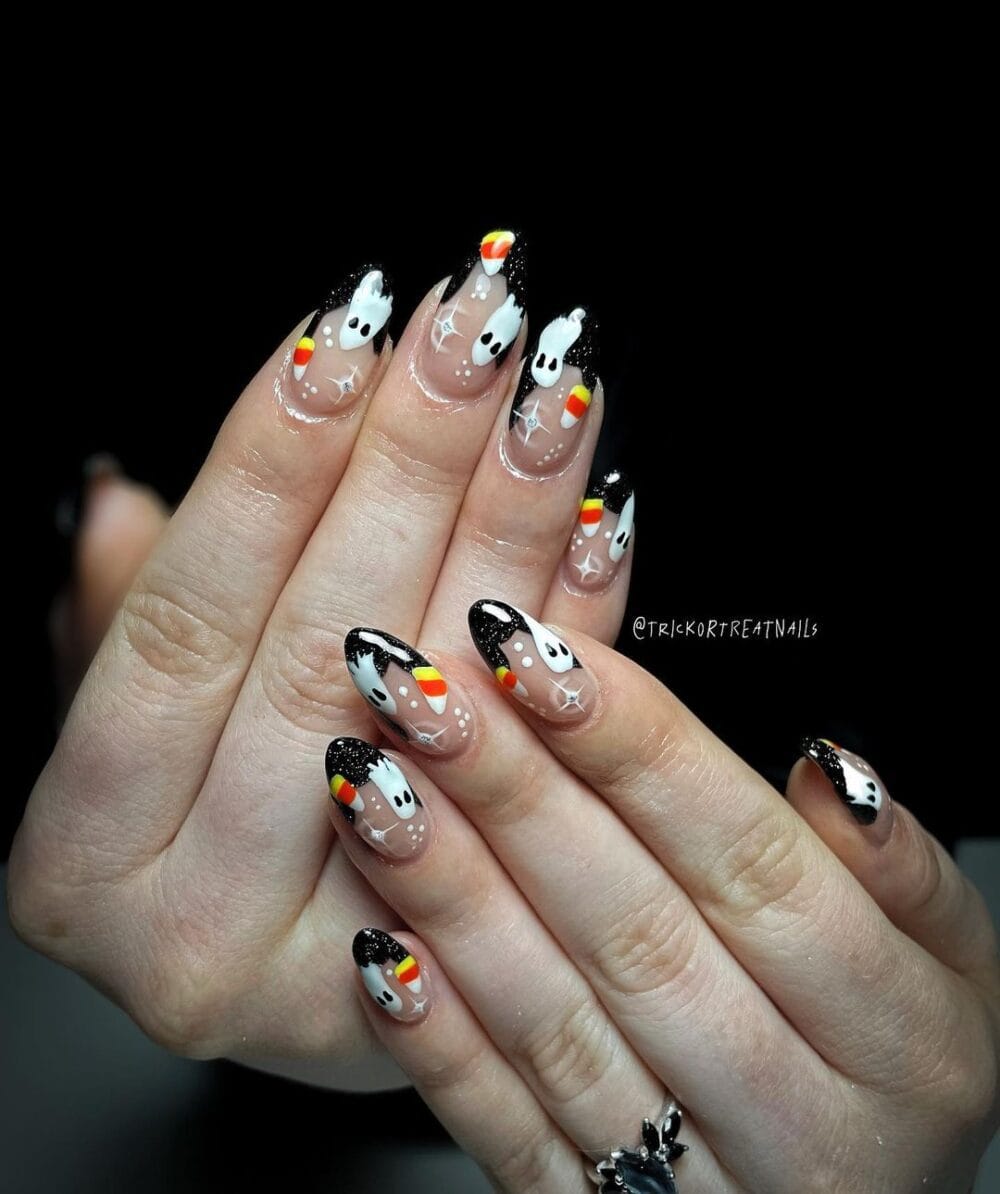 These Halloween nails are bringing you a playful twist to a classic ghost nail design with some sweet candy corn accents – cuteness overload.

12. Mystical Witchy Elegance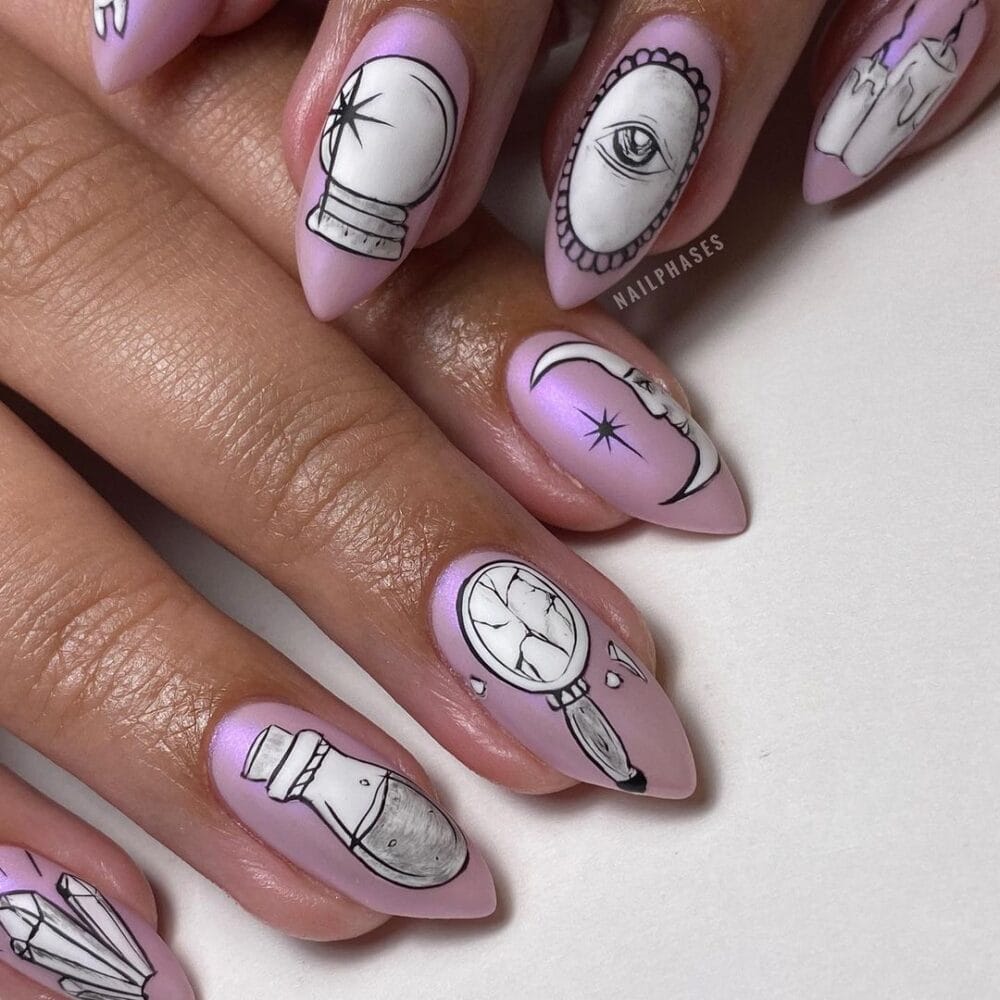 These subtle matte witchy Halloween nails are pure magic, showcasing a broken mirror, glimmering crystals, a mysterious potion, a crescent moon, and a crystal ball for an enchantingly elegant vibe.

13. Skeletal Sophistication
Embrace the essence of Halloween with these matte black press-on nails with delicate skeleton accents.

14. Haunted House Magic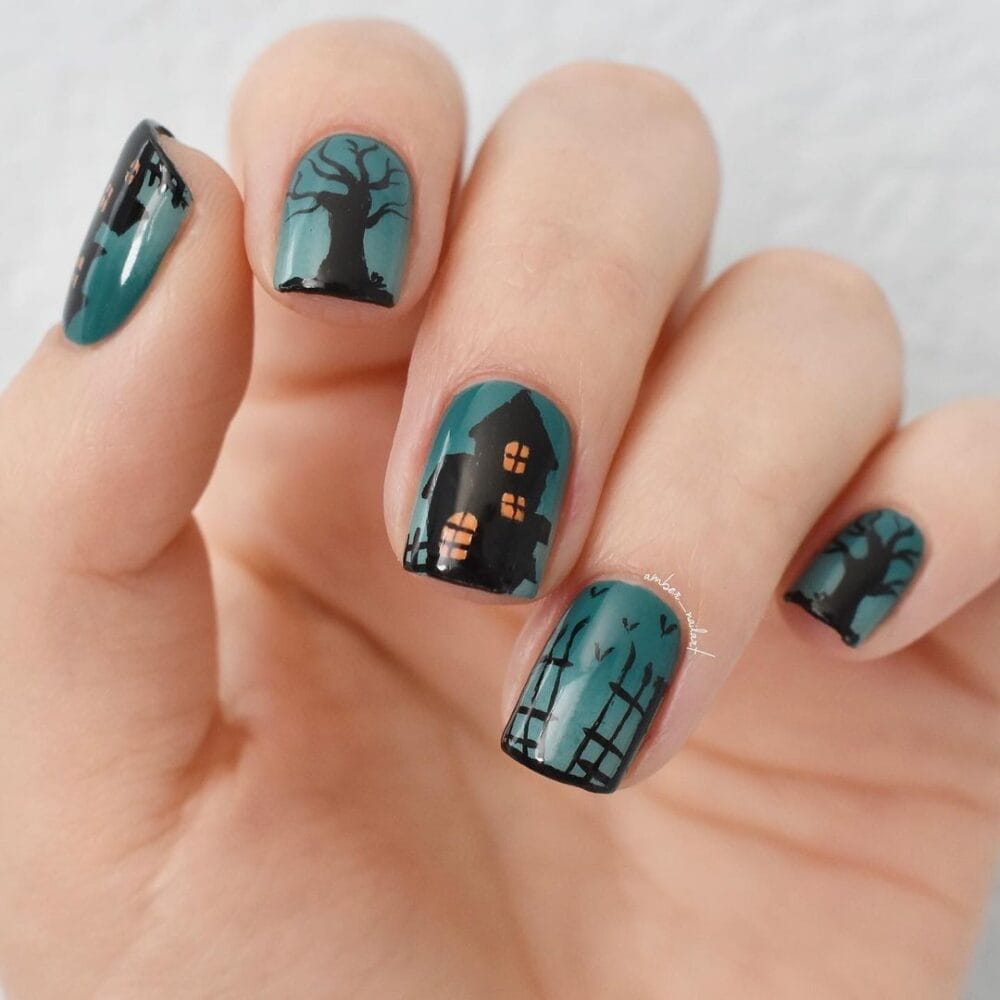 These nails transport you to a misty, moonlit night with a hauntingly beautiful haunted house against a moody teal ombre backdrop.

15. Spooktacular Mix & Match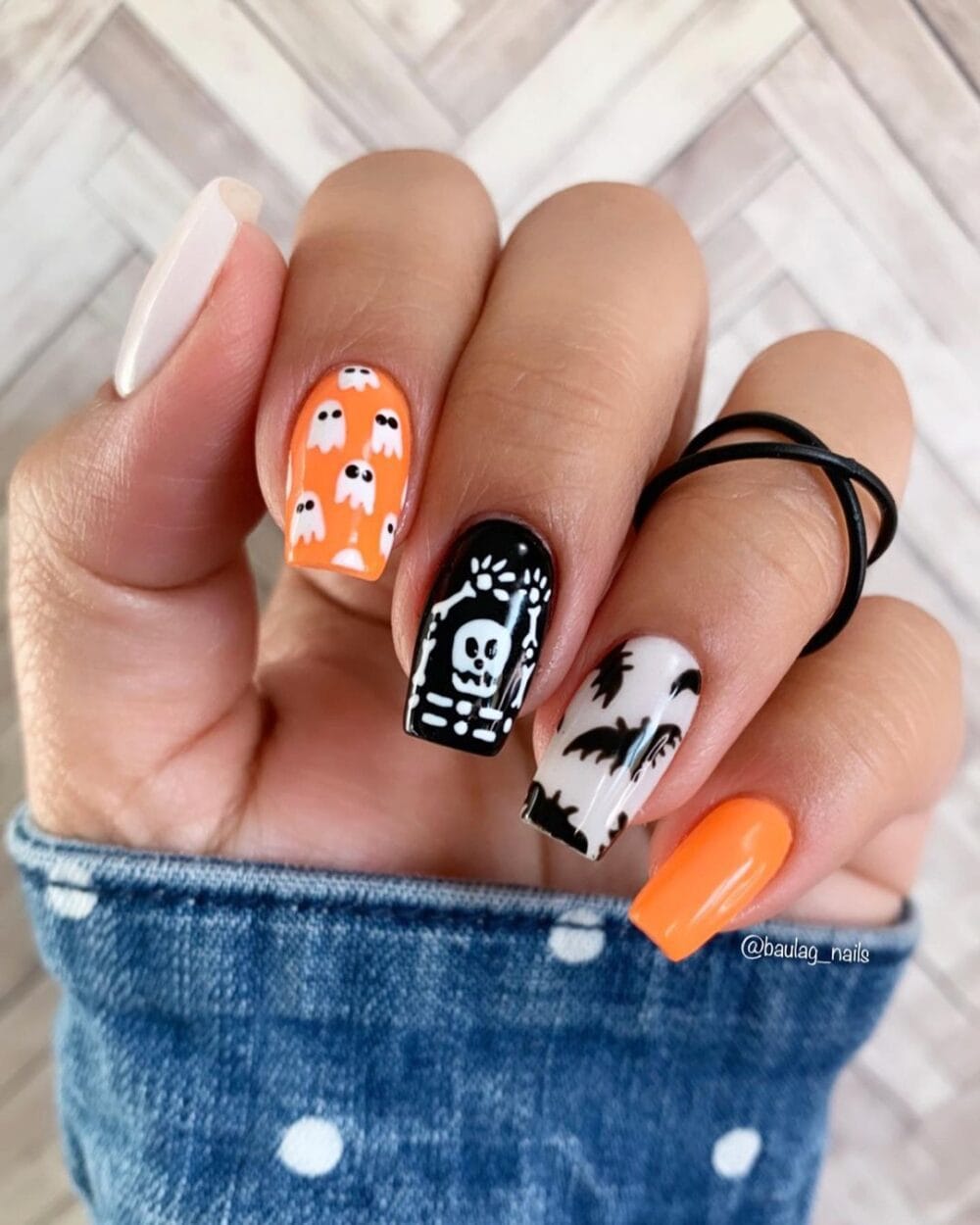 These playful orange, white & black combo nails are the canvas for cute little ghosties, a skeleton, and bats that mingle in a quirky Halloween dance.

16. Tim Burton Charm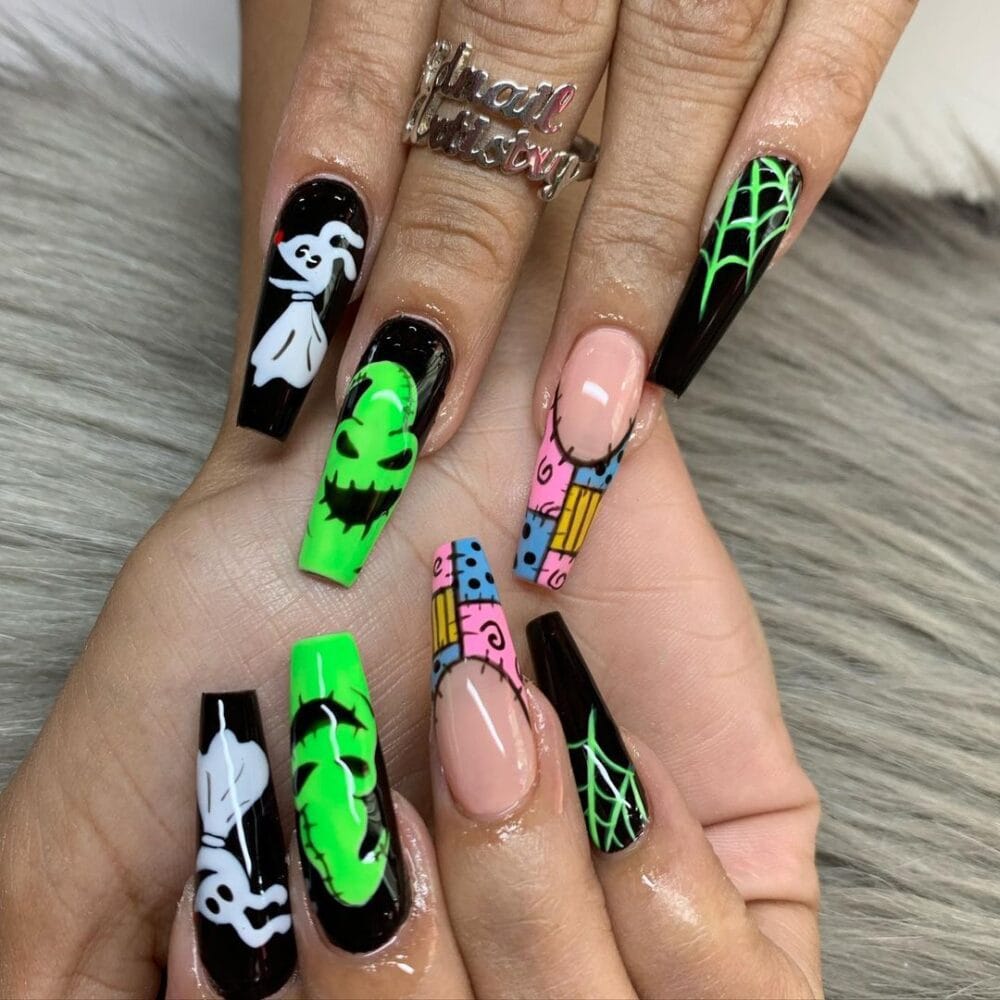 Celebrate the whimsy of "The Nightmare Before Christmas" with nails that capture the essence of spooky characters, inviting a touch of enchantment to your Halloween look.

17. Creep It Real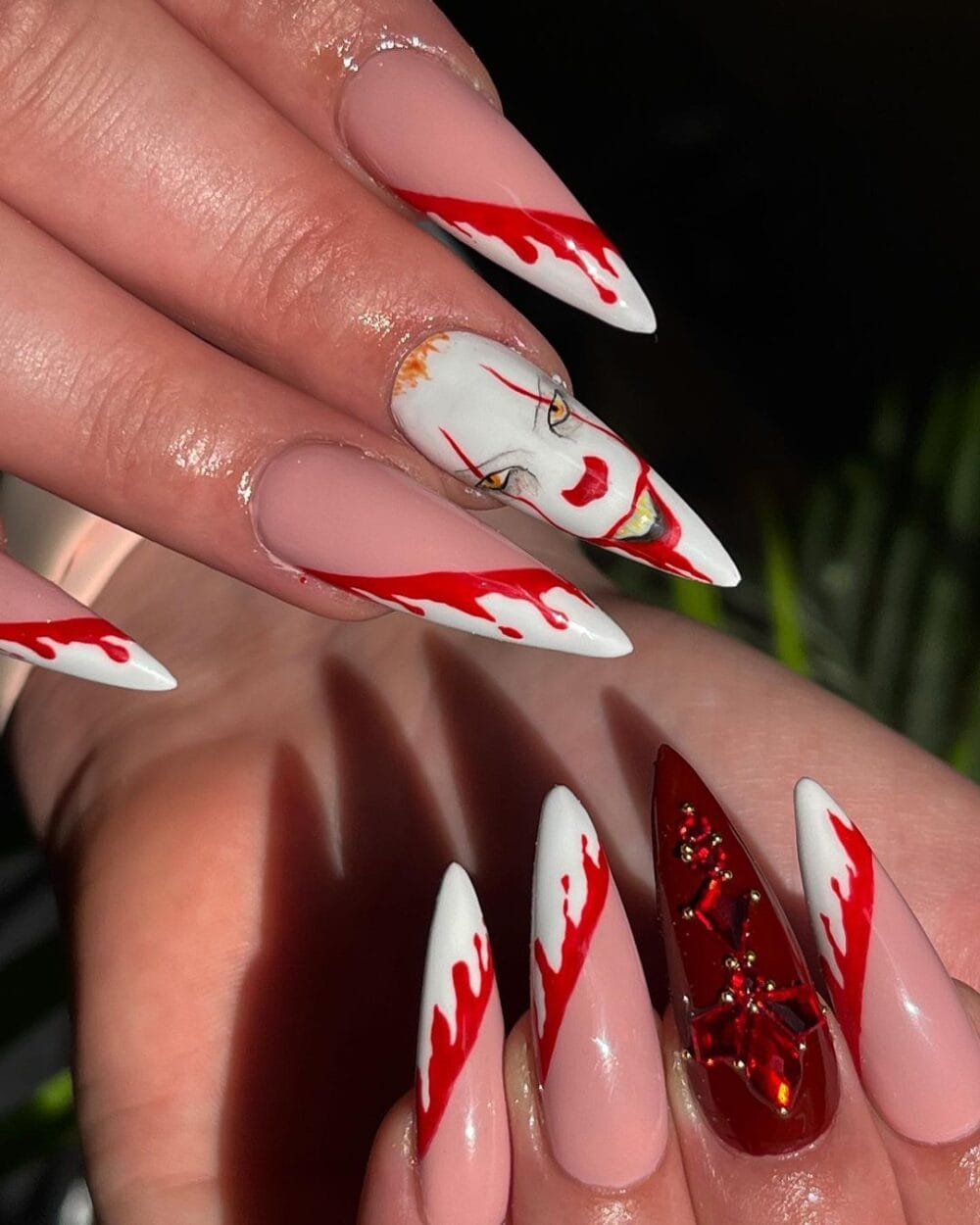 These bloody nails capture the essence of the creepy clown Pennywise from the movie 'IT', transforming your nails into a chilling work of art that's both terrifying and terrific.

18. No, You Hang Up
These pink press-on nails bring a touch of subtlety and a dash of cheekiness to your Halloween style. The playful "No, you hang up" inscription adds a hint of flirtatious spooky charm to your fingertips.

19. Disney Delights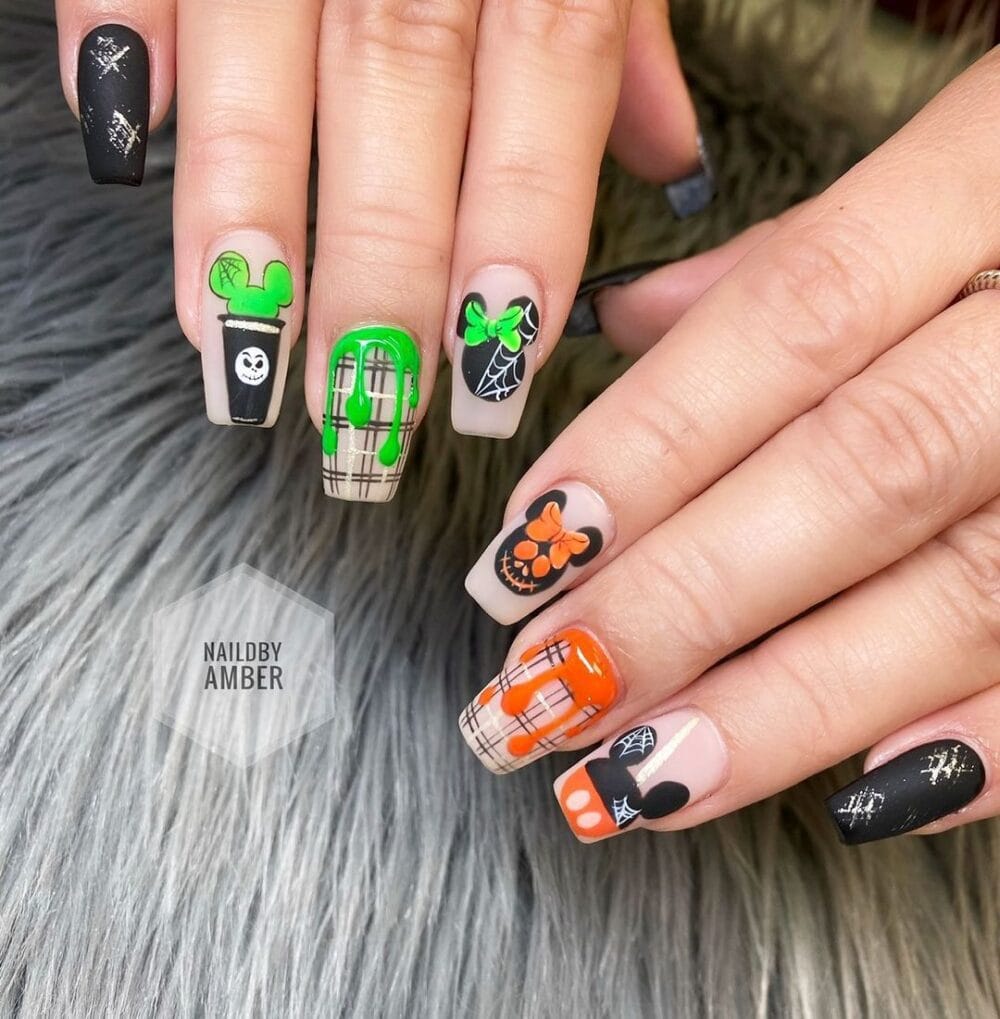 Embrace the magic of Disney once again – these nails feature familiar characters with a scary Halloween-appropriate twist and with seasonal hues of green and orange.

20. Toon-tastic Stilettos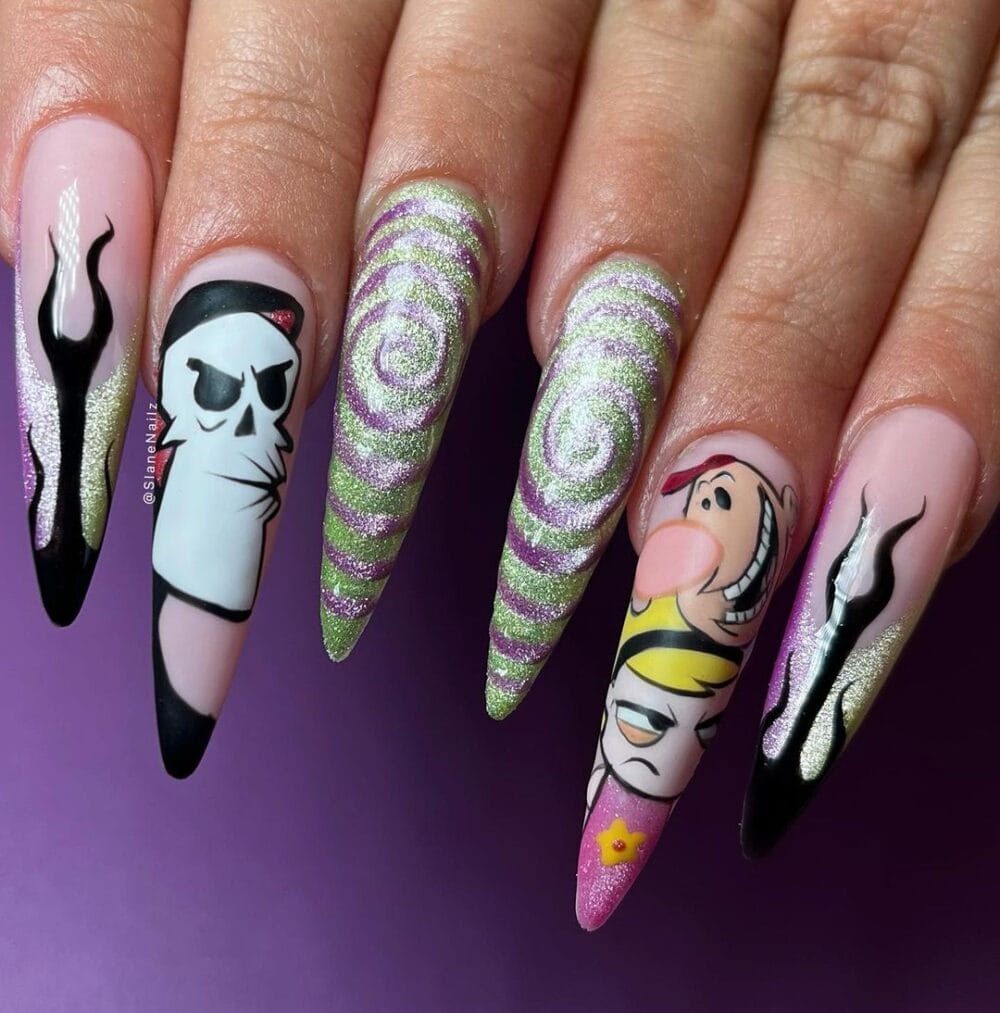 These Cartoon Network Halloween stiletto nails are a playful blast from the past, showcasing beloved characters in spooktacular style that's both nostalgic and fun.

21. Clear & Spooky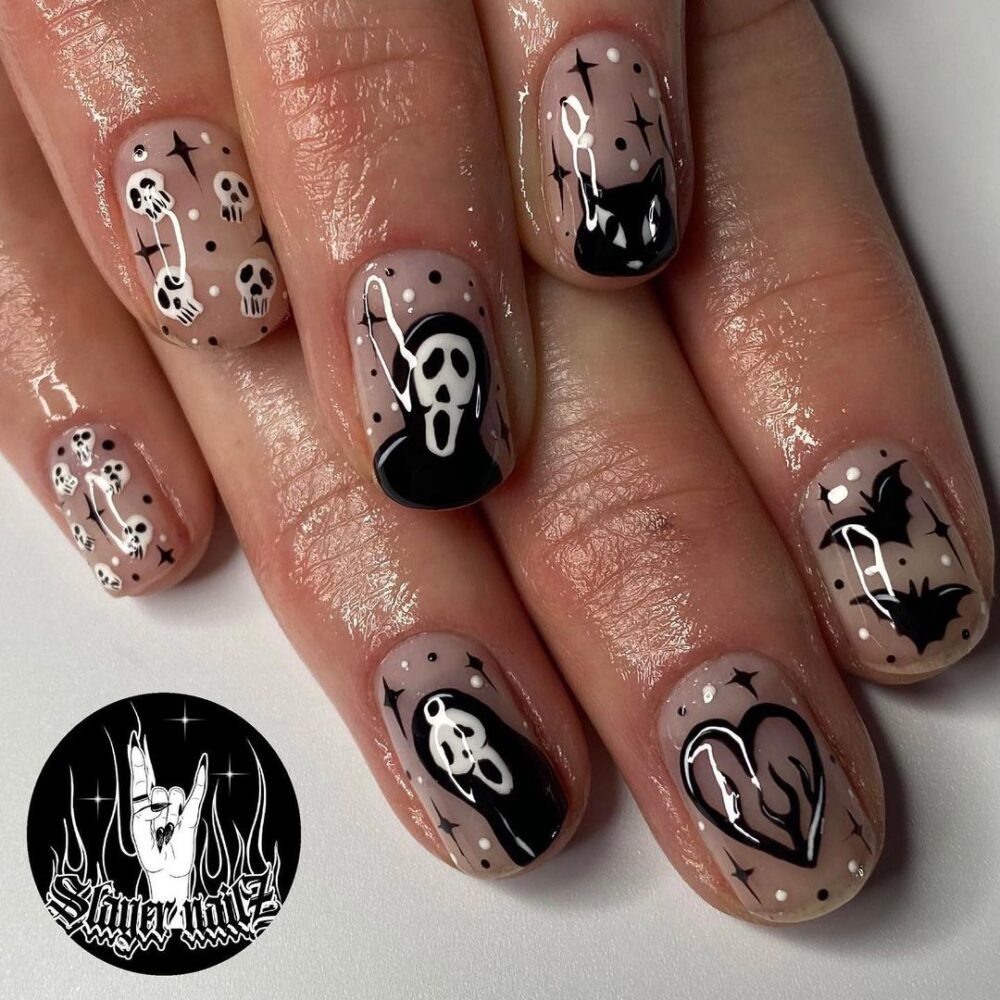 These cute clear nails become a canvas for spookiness with adorable skulls, mischievous cats, ghostfaces, and black hearts, creating a transparently bewitching look.

22. Sparkly Witch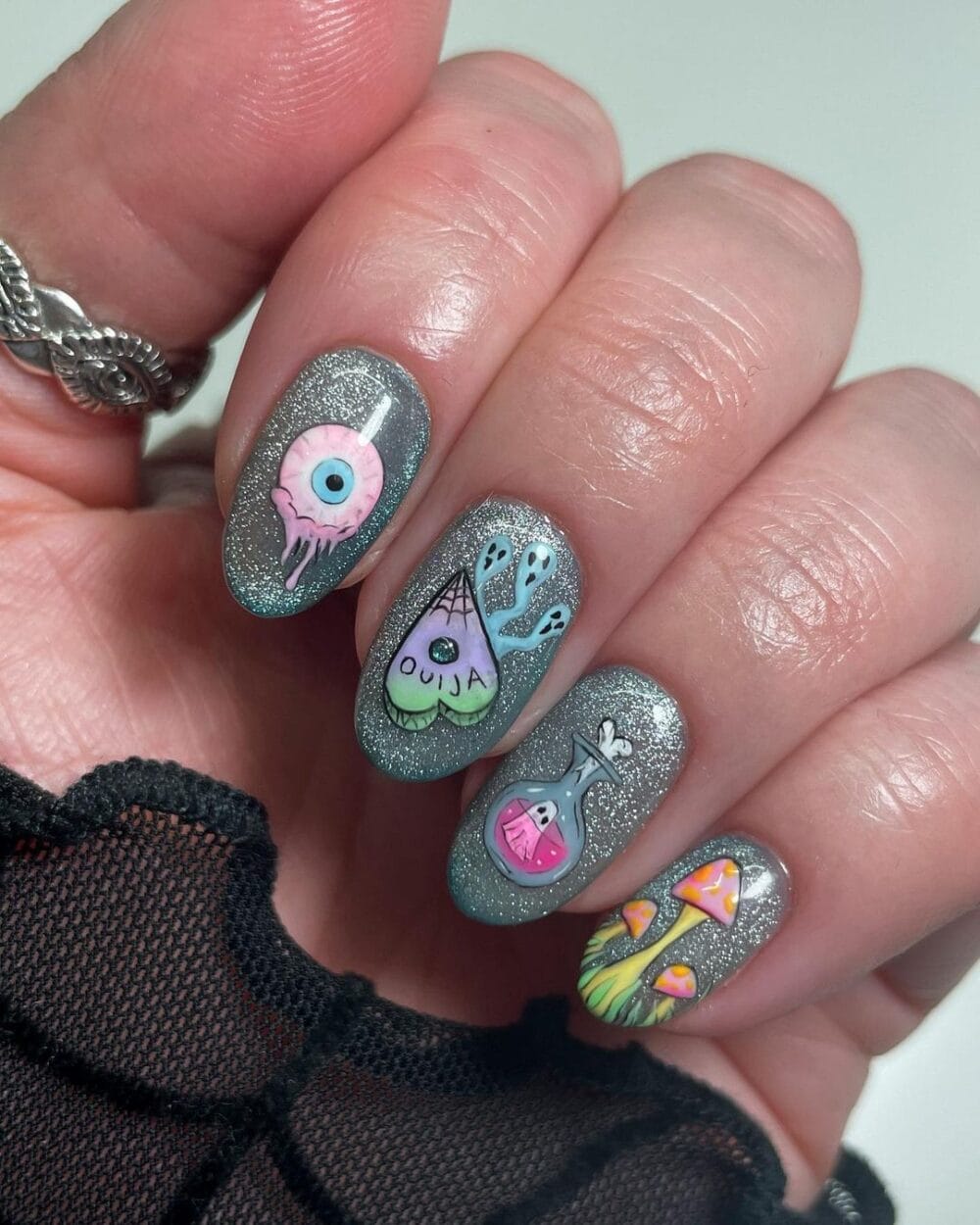 Sparkly witchy nails with eyeballs, mushrooms, potions, and Ouija board inspiration cast a spell of fascination, turning your nails into a mystical concoction of creativity.

23. Chic Web of Shadows
Get in the Halloween spirit with these short square press-on nails in sleek black with some sparkly rhinestones.

24. Tropical Halloween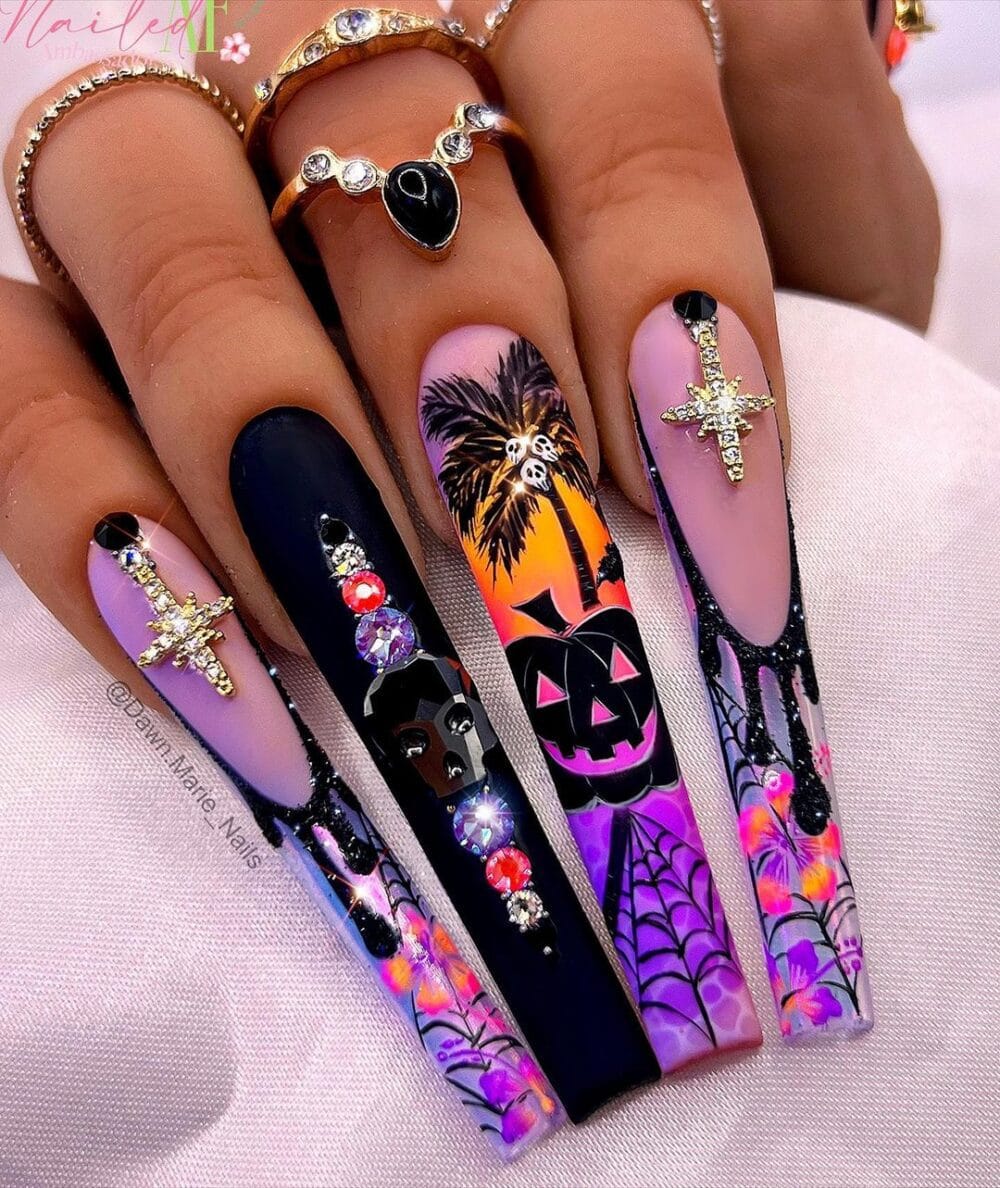 Behold these mesmerizingly long nails that blend vibrant purple, sunny yellow, and pretty pink hues for a touch of the tropics. These super fun colors, Halloween accents, and gemstones make these nails a stunning fusion of good vibes and spookiness.

25. Ghostface Queen Vibes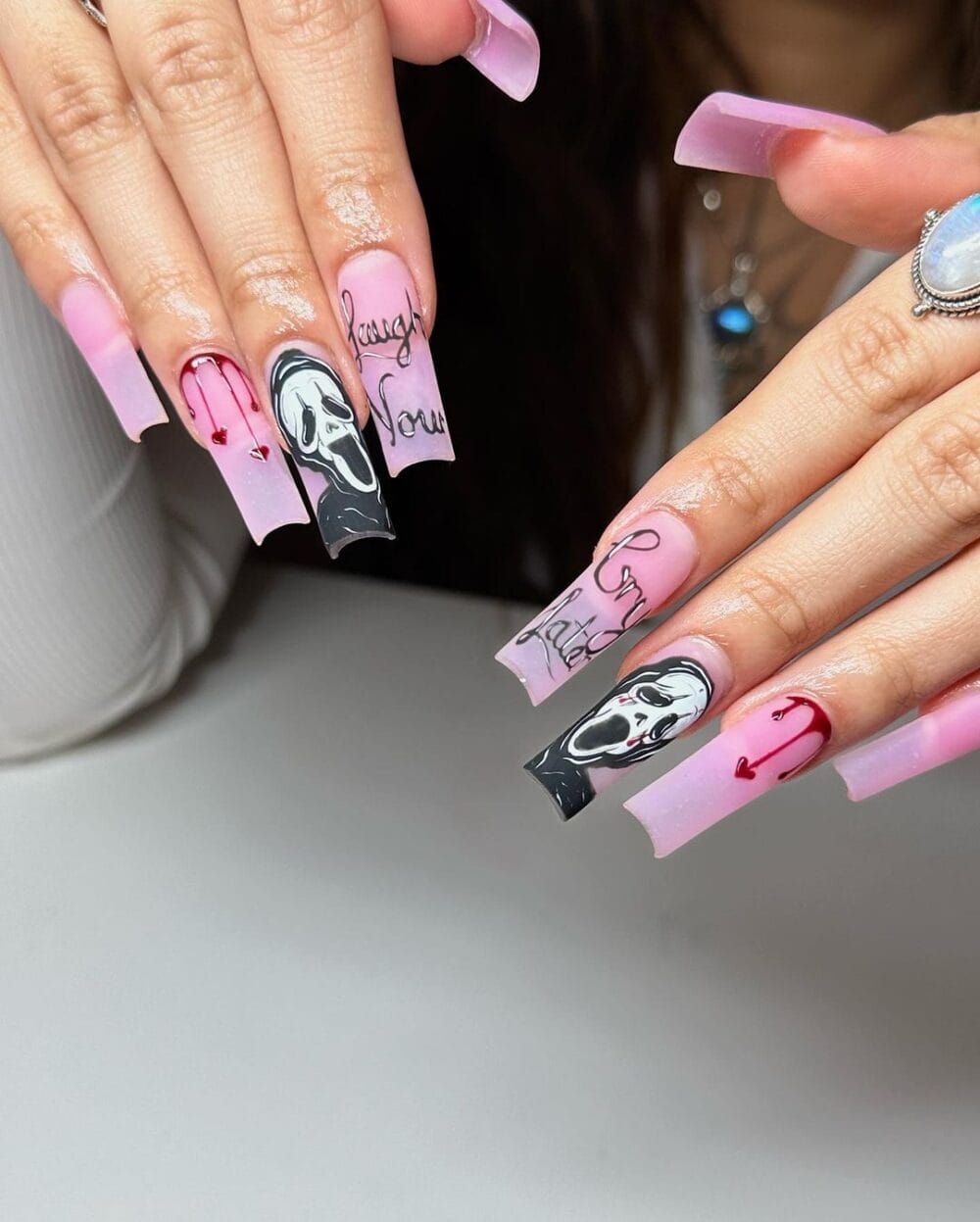 These pink, girly Halloween nails take a bold twist with the iconic Ghostface mask from the "Scream" movies, making your fingertips the center of attention and adding a dose of slasher chic to your style.

26. Web of Glam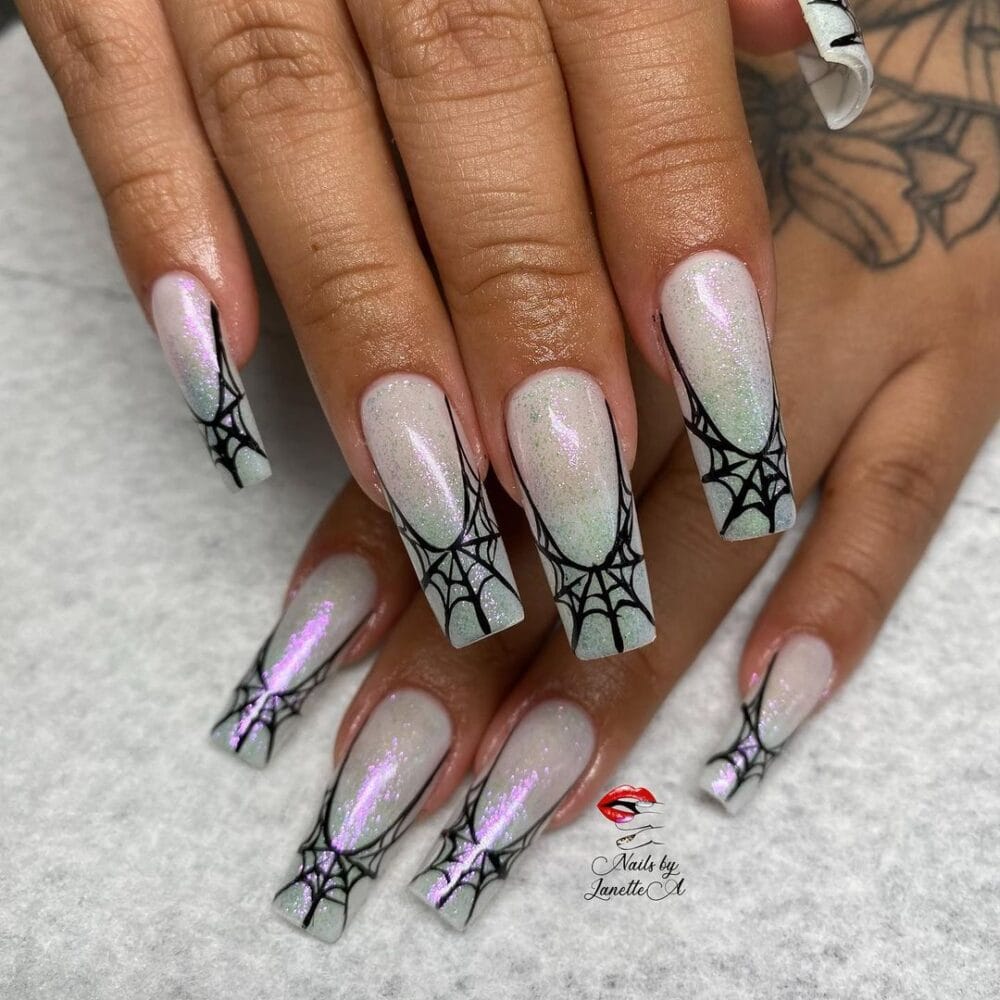 These sparkly Halloween nails are like catching dew on a spider's web, with spooky spiderwebs creating a bewitching look that's perfect for the season.

27. Creepy & Cute Contrasts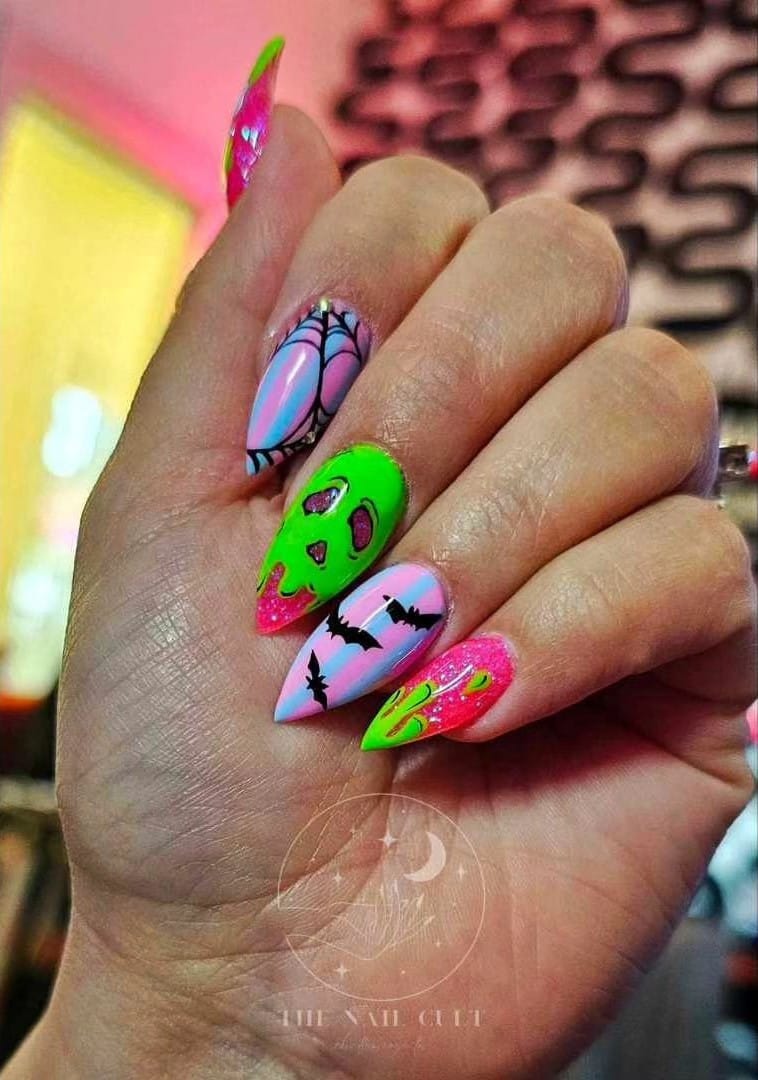 A colorful and cheerful nail design features a creepy green face and goo on a pink background, contrasted with pastel colors, offering a delightful balance between scary and adorable.

28. Mystical Aura
Mystical black press-on almond nails featuring a crescent moon, a third eye, and serpentine motifs, these nails evoke an atmosphere of witchy charm and cosmic energy.
29. Elegantly Eerie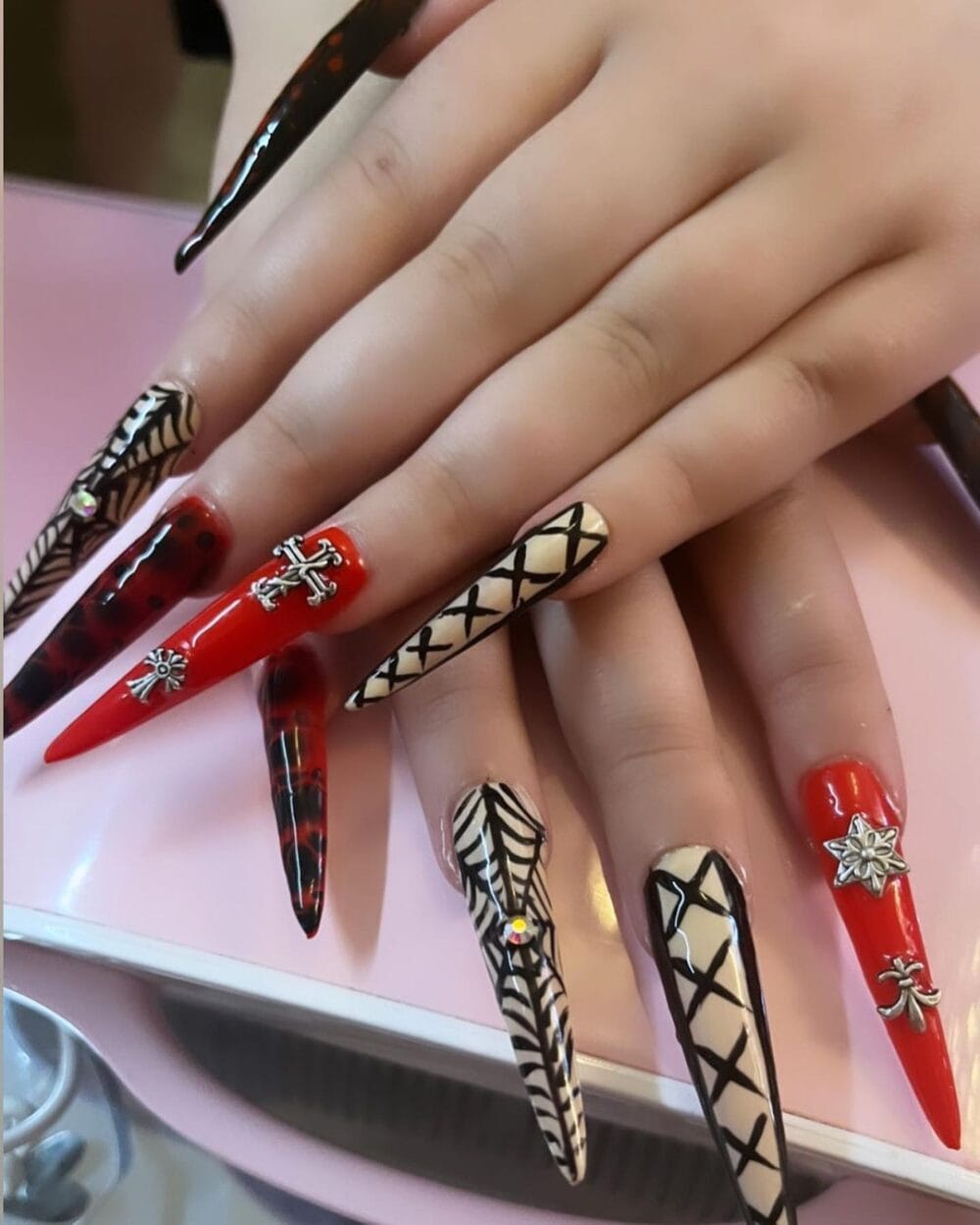 These long stiletto Halloween nails with delicate spiderwebs, crosses, and corset accents will add a touch of mystery and edginess to your look.

30. Purple Glam Ghostface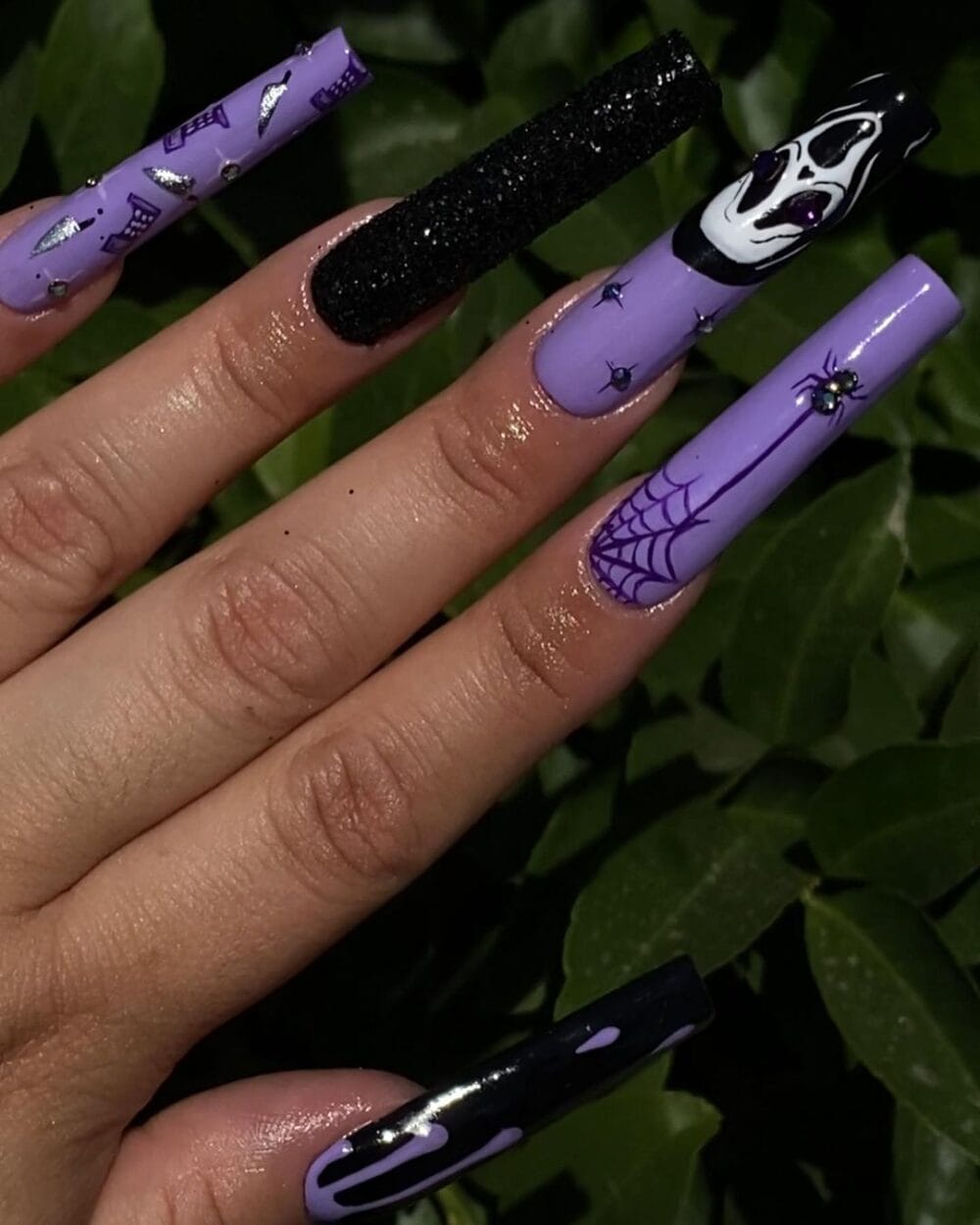 Purple and black Ghostface nails with a sprinkle of sparkle take you from scream to dream, blending spooky and stylish for a truly haunting nail art.

31. Elegantly Haunting
These extra-long coffin-shaped press-on nails combine shades of nude, yellow, and black, these nails boast a haunted house accent that adds an elegantly haunting touch to your Halloween look.

32. Bare-Bones Elegance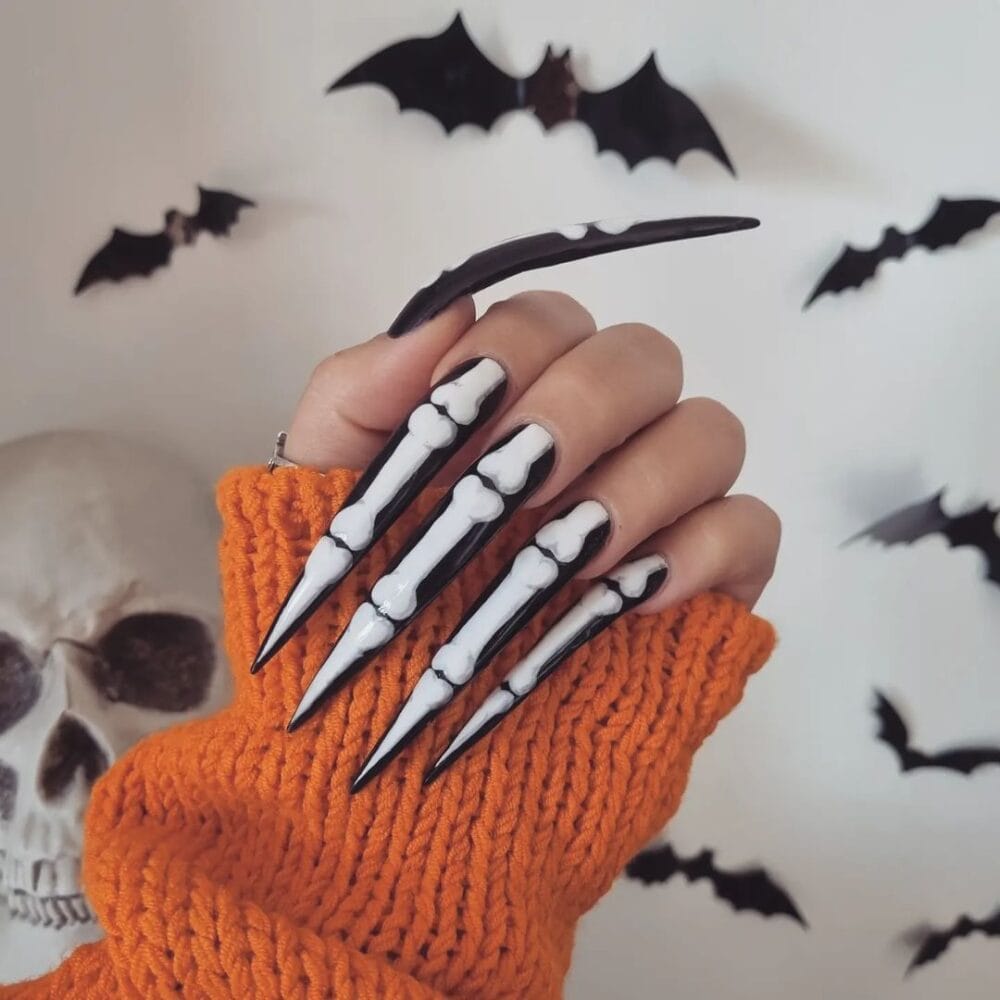 These very long black and white nails take a minimalist but impactful approach with bone motifs, they are definitely making a statement!

33. Starry Spookiness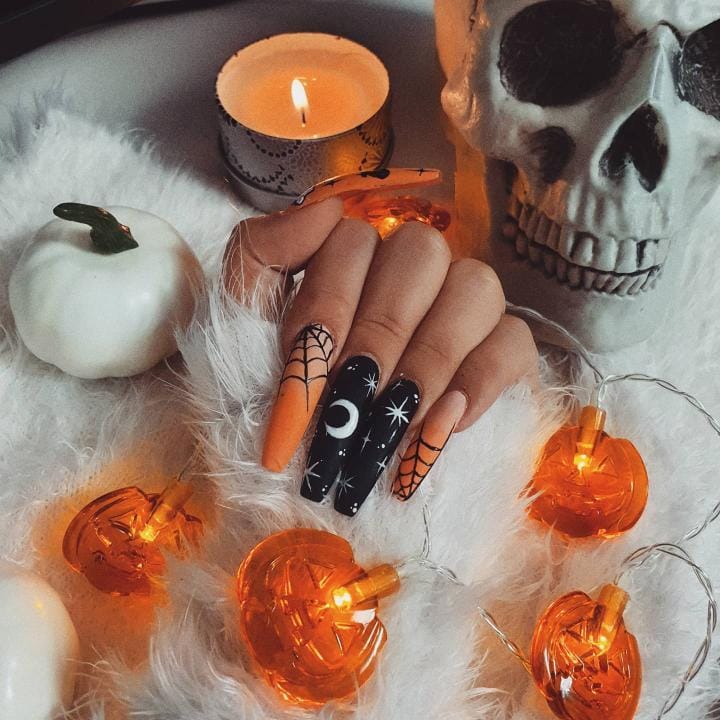 Embrace the magic of the night with orange and black nails featuring a starry night pattern and intricate spiderwebs, capturing the essence of the season's mystique.

34. Pumpkin Playfulness
Fun and festive, but still spooky – these orange nails adorned with cute pumpkin accents celebrate the Halloween spirit in a lighthearted and charming way.